Back To Our Services
Everyone has seen the movies or TV shows where the famous musician, movie star, or CEO has an imposing gate with an intercom to keep out their loving fans and paparazzi. Nothing creates a more impressive image for your home than a stylish driveway gate that opens with the push of a button. It makes a clear statement to every visitor to your home about the type of lifestyle you live. There is a variety of options to choose from to enhance your gate, including automatic gate openers, intercom systems, phone entry systems, and safety sensors that can detect obstructions in the path of your gate.
In addition to the electronic features, you can customize the appearance of your gate as well to suit your own personal taste. While most companies have prefabricated gates that you can choose from, you can also choose to design your own custom gate completely from scratch. Want to incorporate your name or the name of your business into your gate? Have a particular symbol or pattern in mind? There is no limit except your creativity.
Install Your New Residential Electric Driveway Gate Today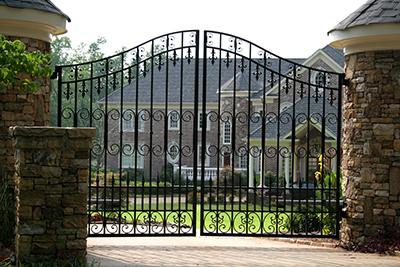 Choose "Gate Repair Corona Del Mar" to install your residential driveway gate and take advantage of the variety of technological options we offer with our prefab and custom gates. FAAC gate openers have been recognized as one of the safest and reliable names on the market for over 40 years. Their automated openers have a long life and offer peerless quality at a bargain price. Doorking openers, also known as DKS openers, are perhaps the preeminent name in the access control service industry today. Their products are synonymous with quality, and we cannot recommend them highly enough. If you are looking to include an intercom with your installation, Linear intercoms combine an easy to use design with the most sophisticated technology available.
If something wrong with your system, don't worry! We take great care of our clients by offering gate troubleshooting and repair services by our team of expert technicians. We can solve any issues you have at the most reasonable prices in the area. Every one of our staff has the knowledge to address all of your questions. We get the job done quickly and get out of your hair before you know it.
Whether you are looking for installation or repair services for your driveway gate, hiring the friendly and knowledgeable staff of Gate Repair Corona Del Mar is the best choice you can make. Call us today or visit our website to learn more.
Back To Our Services