Back To Blog
Everything needs some kind of support to stand correctly, and so does your wrought iron gate. If we are talking about swing gates, the need for posts is even greater. Since these gates open and close tens of times each day and weigh hundreds of pounds, they have to be supported by really strong pillars. That's actually what posts are. They are the basic supporting parts of your gate. This brings us to the question of post sizes and installation processes. Gate Repair Corona Del Mar explains that they're both important!
Do you know how to repair gate posts?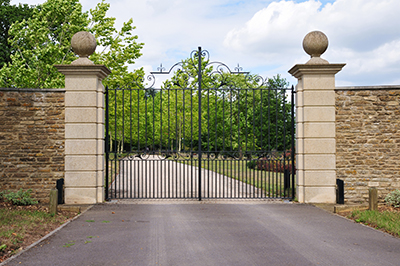 The size of the posts can vary depending on the size and weight of your gate. Imagine having really thin softwood posts for a huge sized gate. It won't last a day! With the help of the swing gate hinges, the panel moves back and forth, closes well and remains safe. If you get unsuitable size posts, they will start sagging within days. It's also essential to pick resistant materials. Nowadays most people get posts made of timber, but how long the posts last will depend on the kind of wood you choose. Softwood usually rots easily. You should go for hardwood instead or, better yet, forget about wood altogether and get steel gate posts.
The way your posts are installed is even more significant than their size. If they are not buried deep enough or are not supported with concrete, they won't last. It's best to bury them three feet in the ground and also apply a tough, protective layer of cement to the bottom surface before you put in the posts. This will help keep them from rotting. Posts can also be supported with extra braces. In order to support the gate, posts need to have good support as well. As a matter of fact, checking whether there is a need for swing gate posts repair and reinforcement of their foundations periodically will help you avoid problems.
Today we can find even posts made of iron, concrete, or stone. There is nothing strange about these choices. Their strength and resilience can better support all kinds of gates, even beautiful ornamental iron gates.